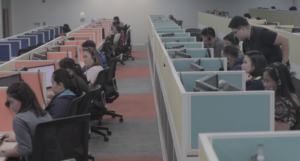 Concentrix opens its 45th BPO Site in the Philippines –  Located in Ayala North Exchange Tower 2 Makati City. One of the country's largest customer solutions company providing customer analytics, consulting, and other value solutions.
It has a 100% back up power and 2 telecom lines to support its round the clock global operations.  With over 225k employees across 40 countries in 6 continents. Built state for state of the art facility – unique experience, different by design.
Approximately 90k strong workforce were coming from the country. The 24k sqm facility (12 floors) 14-25th floor – That operates 24/7 to approximately 3k employees and functions that houses a global innovation and support staff.
"Concentrix is fanatical about its clients and staff. We leave no stone unturned in terms of providing the best work environment possible. Being in the customer engagement business, our most important asset are our people.
Infrastructure and facilities are designed to work with and around the needs of our staff. So we invest a lot in making every square foot of space comfortable and conducive for our employees to succeed" said Stephan Daoust, SVP.
Mr Doust is also expecting a growth of about 5-6k additional headcount this 2020. Also mentioned about global talent and competition. When it comes to Filipino Vs Foreign or local mainland call center or BPO talents.
As it adds value to each hires performance and quality of work. They also offer sign in bonus as well as interesting compensation plans to applicants. Also to continue to increase its client and people growth in the Philippines as the biggest, proudest and boldest company.
The facility have production, training rooms, sleeping pods, ihub, site clinics, wellness center and an integrated lifestyle type surrounding on towers. The company several employer of the year awards like the PEZA and World HRD.