Craving a bit of sun and adventure after a summer of restrictions?  Want to get your hands dirty after a year of endless sanitising? If so, head for the beauty and tranquillity of Quinta da Gricha for the annual harvest Vindema of Churchill's award-winning port and Douro wines from now through to October.
Learn about the Douro Valley and the unique viticulture of the world's oldest demarcated zone. Immerse yourself in centuries-old traditions while picking grapes and enjoy wandering the vined-terraces overlooking the Douro River. Then treat yourself with a refreshing glass of wine in the panoramic infinity pool before a delicious dinner in the idyllic orange grove.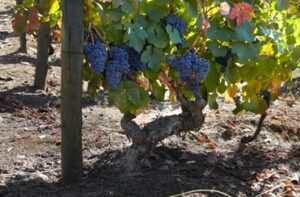 Whether you're a port aficionado or just a curious wine fan with a love of beautiful places, the Churchill's Harvest Haven Experience is the perfect blast of fresh air after months indoors.
This exclusive two-night break is available from now until 20th October 2020 and includes:
Two-night stay in a vineyard suite at Quinta da Gricha Vineyard House (2px)
All inclusive – Breakfast, lunch and dinner, tea and complimentary wine and port (2px)
Vineyard jeep and winery tour
Guided Port and Douro Wine tasting
Daily harvest chats with winemakers
Option of luxury transfer from/to Porto
Price: £710 for two people (inc. tax; excl. transfer)
Optional transfer service: for €120 one way /€200 return.
To book visit: https://churchills-port.com/quinta-da-gricha/experiences/
For further information on this releases contact Vicky Major at Major PR on vicky@majorpr.co.uk or call 07506750318. Link to a selection of images: https://we.tl/t-3ONFRSWt5E
Churchill's
Churchill's is one of the world's foremost boutique producers of premium Port and Douro wines. The Churchill's name is big, but the company is small – with a team of 40 producing just 50,000 handcrafted cases each year.
While the other top players in the category are centuries old, Churchill's continues to be founder-led, with master port blender Johnny Graham still making the wine nearly 40 years after starting the company at the age of 29.
The driving desire to use simple methods and top-quality grapes to make excellent port and wine that incite joy still lives at the heart of everything we do.
Quinta da Gricha
Churchill's offices are in Porto, but its heart is at Quinta da Gricha – our 50 hectare estate in the Cima Corgo sub-region of the Douro Valley, where we make our port and our range of innovative Douro terroir wines.
Here we practice minimal intervention winemaking and sustainable agriculture to ensure that we can continue to make simply excellent wines in this region for centuries to come.
Down-river and up-the-mountain from the tourist trails, Gricha Vineyard House embodies the spirit of the Douro: breath-taking vistas, warm community, and wine and winemaking at its centre.
At Gricha, our guests, much like our team of farmers, viticulturists, and enologists, know that great experiences take time and a bit of effort – and so they brave the windy road, look beyond the first hill, and embrace the quiet solitude of vineyard life — whether with a glass of wine, a dip in the pool, or a traditional meal in our idyllic orange grove.
With just four luxury bedrooms tucked into a tastefully remodelled 19th century farmhouse on Churchill's legendary 50 hectare vineyard, Gricha Vineyard House offers guests access to an intimate and personal experience of life on a working Douro winery.
Feel the pace and simplicity of life amongst the vines. Learn about viticulture and winemaking in personalised tours and tastings amidst the vines and treading tanks. Enjoy Churchill's award–winning wines while relaxing by the infinity pool or gazing out at the valley from our panoramic terrace.