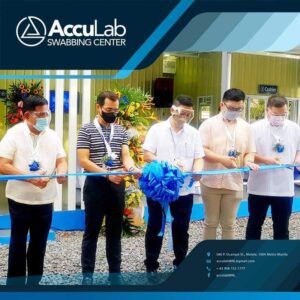 We need more testing labs facility every kilometer in our City. I think the global pandemic will stay in the next 2 years.
Even though the vaccine will be released before the end of this year. We are in a 3rd world, and the priority are the 1st world country. We are still not safe, its still on developmental process.
We are just like rat, still on testing phase. If you are going to travel for several minutes or hours for covid19 testing. The risk of transmitting your virus along the way is at risk to unknown fellow.
AccuLab just open its facility last Thursday 22 Oct 2020 and donated several rapid testing kits to Yorme Isko.
With the increase of covid case in the country, It is better to have more facility like this. As Acculab MNL is a team of highly trained medical pro.
Which can accommodate patients from 4500 to 11500 price for rapid test result for as low as 1400 pesos for antigen testing. They do accept drive through, walk in even going to your location.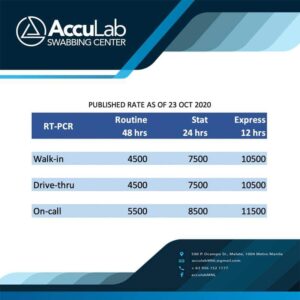 AccuLab MNL mainly offers the gold standard in coronavirus testing, the real-time reverse transcription polymerase chain reaction (RT-PCR).
This is a highly technical process that not only involves having the right machine and kits, but also the proper safety infrastructure, like a biosafety level 2 (BSL2) laboratory.
That is why, AccuLab MNL partnered with PHILIPPINE AIRPORT DIAGNOSTIC LABORATORY, a duly licensed and DOH-accredited molecular diagnostic testing facilities, also considered as one of the early responders to the government's call for unity in fighting the COVID-19 pandemic.
At AccuLab MNL, we are committed to delivering your COVID-19 test report and certification with Accuracy, Consistency and Efficiency. We at AccuLab MNL, we ACE in the trace.
For more details, Contact Anne Chico-Vicente and/or visit their
Facebook page: facebook.com/acculabmnl
580 P. Ocampo St. 1004 Malate, Philippines
0995 654 2223