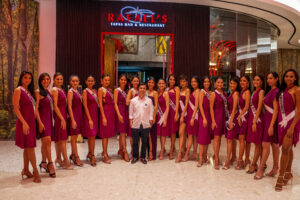 Couple of days ago, I was invited by John Cueto of Larawanatkape.net to dine at this fancy artistic kind of fine dining restaurant.
At the 2nd floor of Resorts World Manila, which is considered as the central entertainment, leisure, dining and gimmick casino place in the country.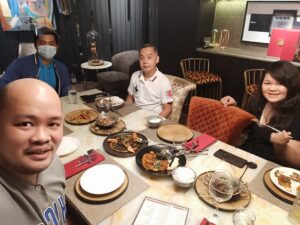 It may look quite expensive when you see the restau exterior or interior. But its actually not, you can have drinks as well as food order which is actually cost you less than 500 pesos on the menu.
If you are outside you may find it intimidating because of its artistic beauty. You may think that its pricey, but usually not – when you are going to browse on its menu.
As I interviewed the Manager Yuan Marko while we are dining in. He told us everything about Rafael's. I was amazed that the picture on walls and displayed were shot by famous artist John Lloyd Cruz.
They also support auction of different artist inside the restaurant. They do deliver as well via grab food and food panda. Even does cooked with diplomats and Malacanang Palace guest.
Uan told us about the family related inspiration concept of the restaurant. Not just the something to eat and serve. But also to remember the great dining experience with an art twist.
Before the VIP room would cost you around 200k worth of consumables. But right now you can avail it for as low as 15k. Considering the fine tables and chairs at the 2nd floor of the restau.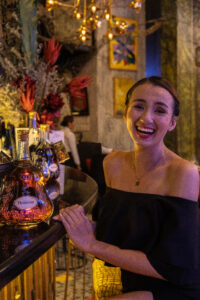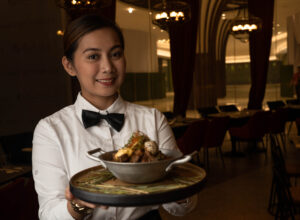 We did order our rice meal with Duck sisig – quail egg and aioli. And then Wagyu beef tapa – truffle au jus, buttery black garlic and fired oyster mushrooms.
Also Wagyu Brisket Caldereta – roasted wagyu, carrot puree, garlic porato puree and fried olive. And Prawns in Ajillo sauce – flambe al ajillo gamvas, black garlic, chardonnay, roast chilies and lemons.
For the starter we have coffee and appetizer Chicken skin chicarons with chili malt vinegar, pickled carrot and turnip puree.
Then Spiced Pumpkin Soup – spiced roasted carrot & pumpkin, greek yogurt cream and herb oil. John and Tina ordered the Seafood Chowder and Halaan Tinola- Fresh Clams, Prawn, Ginger Broth.
Before we left we did a lot of talks about covid, travel, events and blogging. With a beer and tea for detox.
So long you may order online delivery or visit Rafael's and feel the affordable fine dining experience with an elegant art twist.