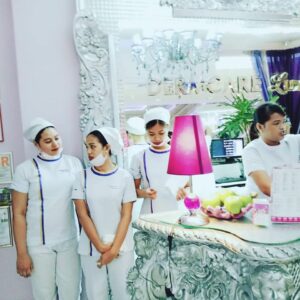 Recently this year I'm into Thailand's series of spa and beauty hospitality ventures. I even remember years back a lady told me before that Im not shy in posting my face doing facial and also did boyzilian wax before.
Even a beauty doctor friend offered me with nose-lift x deal, to switch the majority of my Pinoy Citizenship from JB to Brit J Staham. Hahaha too bad bald ass, I refused the good offer. Who knows maybe later Ill accept it. Just like a face saloon settings in Die Another day Zao's face change in Cuba movie settings.
Im not an expert in beauty or this skin enhancement whatsoever. But this kinda modification skin care adventure makes me feel that life is more exciting. So, watch out for my body scrub, massage and face off beauty post later.
So, A day before I went to Baguio last November 19. I visited this Dermcare branch in Gateway Cubao – Quezon City. They told us about the success of its 120 branches nationwide for more than 30 years.  Even sold more than 1 million vouchers in metro deal group buying site.
See the video tour info and confident Kwentong Pilipina below from Dermcare Philippines beauty experts. As they show how affordable and easy it is to take care of your skin starting at 350 pesos facial service.
Also visit crystalwhitephilippines.com for more specific info on how Amino Acid-Based Whitening Technology affects for your skin. Technology used for lighter and fresher skin output.