See Iqa Nizam's latest Song – Angan Merintih, with English and Malaysian Translation. The music video was released September 25, 2020.
ANGAN MERINTIH ARTIS : IQA NIZAM LAGU / LIRIK: EL HADAM
Verse 1:
Telah Tercipta, Saat Dirasakan Tiba
Menjunjung Nikmat Bahgia Tanpa Duga
Namun Terselit Sesuatu
Yang Menyakitkan Tanpa Segan Silu
Pre chorus:
Mana Mungkin,
Ku Kan Menjadi Sasaranmu Lagi
Kerana Ku Tahu Kau Hanya Membuatku
Ku Berangan Dalam Beradu-!!!
Chorus 1:
Disaksikan Bulan Indah Cantik Mengambang
Temani Hatiku Sepinya Dibunuhmu
Bicara Katamu Membuatku Akur
Kisah Tersimpan Hanya Mimpiku
Verse 2:
Biar Sakit Dalam Diri Ku Sendiri
Takku Biar Mereka Menangis
Untukku Kerana Ku Yakin Disebalik Kisahku
Tersimpan Harga Tiada Ternilai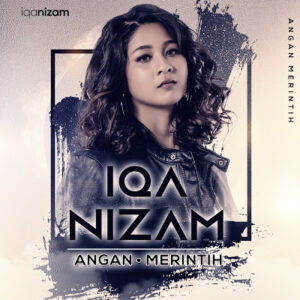 English Translation Via Google / Microsoft Bing
Verse 1:
Created, The Moment Felt Arrived
Visiting Bahgia's Favor Without Duga
Yet Infused Something
The Painful Without Shy shy
Pre chorus:
Wherever Possible,
Ku Kan Become Your Target Again
Because I Know You Just Made me
Ku Berangan Dalam Beradu-!!!
Chorus 1:
Recorded Beautiful Moon Flying
Temani Hatiku Sepinya Killed you
Talk about Making Me An Accompet
A Sustained Story Only My Dreams
Verse 2:
Let's Get Sick In MySelf
I Don't Let Them Cry
To Me Because I Am Confident Behind My Story
Keeping Price Prices Price Price Price In value
Online Music Store: http://www.i-musicland.com
Spotify: https://open.spotify.com/album/5OLPulAgzgNWWadgohYnQS
Joox: https://www.joox.com/my-en/album/bnJ3QBXmSF4yMLtWGQEM8Q==
Apple Music/iTunes: https://music.apple.com/my/album/angan-merintih-single/1533050889
Deezer: https://www.deezer.com/us/album/174906392
Akazoo: https://www.akazoo.com/album/27755405/thomas-arya—iqa-nizam–slow-rock
KKBox: https://www.kkbox.com/my/ms/album/wGaayIRHqNiFo0F5HRnZ009H-index.html
TikTok: https://vt.tiktok.com/ZSmVQcEQ/
Aktifkan nada pemanggil ini dengan cara berikutnya:
MUAT TURUN NADA DERING Maxis CallerRingtones — Dial *131*669926# tekan Call/Hantar DiGi CallerTunes — Dial *233*1373151# tekan Hantar/Call Celcom CallMeTones — Dial *323*738750# tekan Call/Hantar U Mobile ColourTones — Taip CRM 10051619 dan hantar ke 28383
Album : Iqa Nizam – Angan Merintih ℗ & © 2020 INSICTECH MUSICLAND SDN BHD Publishing: MEDIA ASIA PRODUCTION SDN BHD