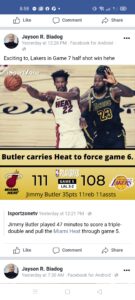 Lakers fans like Snoop Dogg and Lebron should not blame Danny Green for the recent Game 5 lost to Miami.
Common men, its just a game and Danny Green is human they made error shots. If you are a true Lakers fan you should share same sympathy of hope in the court side or locker room.
They said you can see real friends and family during tough times. Not only on victories or time that they need you. But in the worst time of your life.
Well, I was impressed by the performance of Butler. As well as in the past games. So for me, lets bring those Jazz Bulls clutch time rivalry.
I mean lets go for Game 7, half shot won by Lakers. But for MVP, its Jimmy Butler over AD or Lebron.