- Advertisement -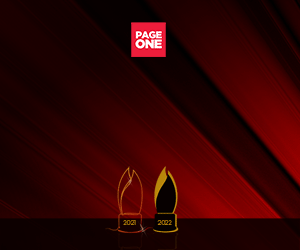 In addition to one of the region's largest desert-located pools, Terra Solis guests can enjoy three accommodation types, including the Polaris bell tents, the Perseid lodges and the Orion pool lodges
Dubai, United Arab Emirates, 19 December 2022: This winter season, Terra Solis Dubai, the newly launched desert destination and the latest addition to the iconic Tomorrowland family, is offering a range of winter experiences within its energising glamping accommodation and chilled vibes at one of the region's largest desert- located pool.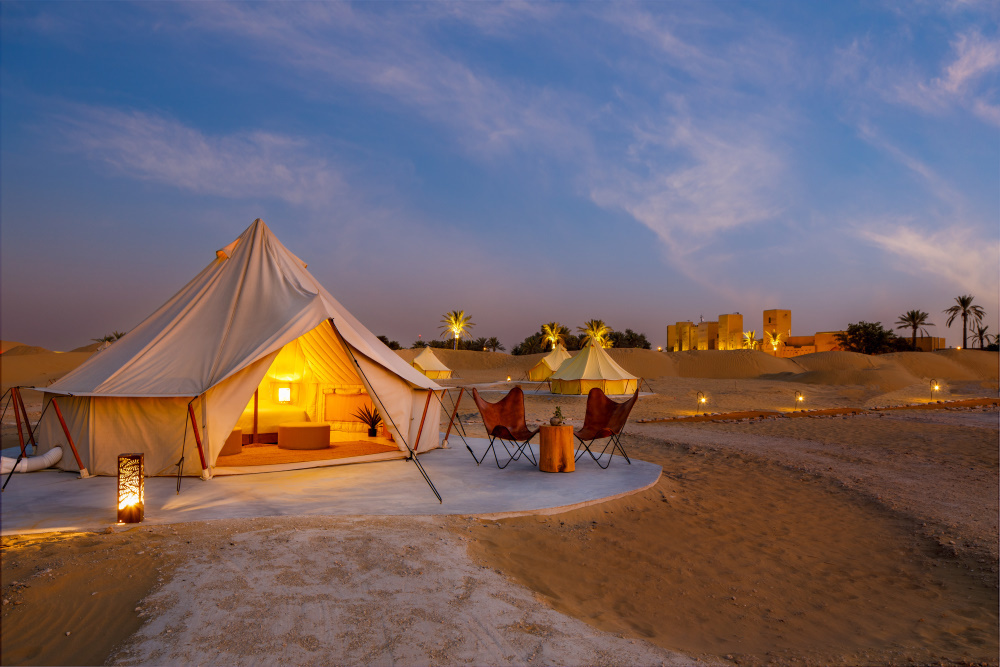 The oriental-chic desert oasis is spread over 371,000 square metres and boasts three stunning glamping accommodation options, including the Polaris bell tents, the Perseid lodges and the Orion pool lodges, a vibrant pool scene and a fun party atmosphere with outstanding music and entertainment.
Pool access for day visitors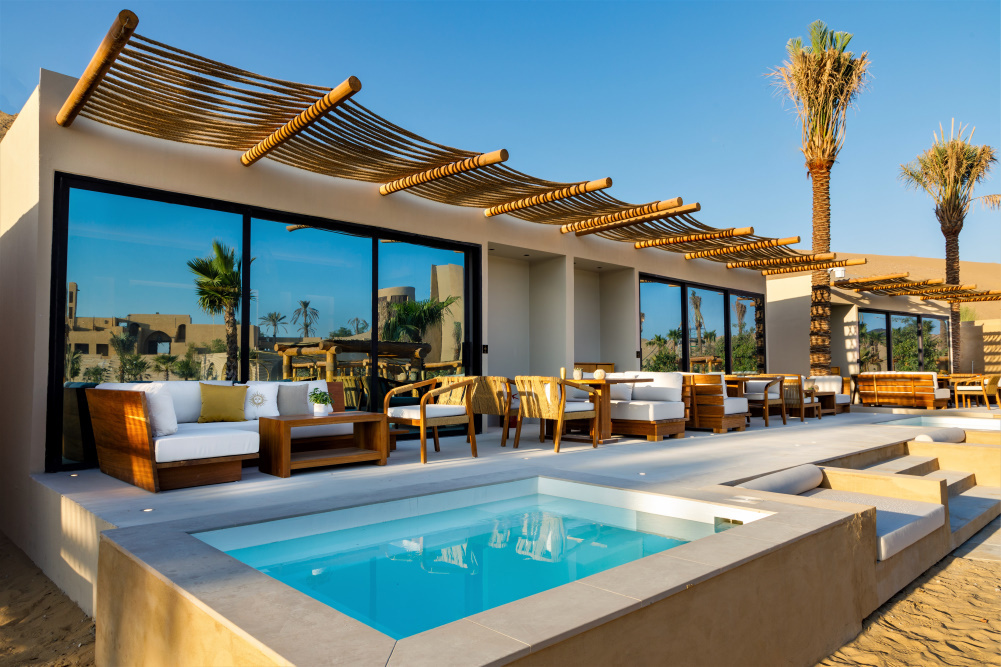 Terra Solis Dubai pool
Open to both overnight guests and day visitors, the super-sized swimming pool, one of the largest in the region, takes centre stage at the heart of the destination.
Visitors can enjoy a vibrant yet relaxing setting under the Dubai winter sun with some of the finest music by carefully selected Tomorrowland resident DJs and local heroes.
The pool features cabanas and sun loungers, an eye-catching bar with a wide selection of drinks and cocktails and the Sala shisha lounge.
Price: Starting from AED200 for weekday access with 50% redeemable for F&B. Weekends start from AED300 with 50% redeemable for F&B. Cabana and VIP cabins are also available with prices on request.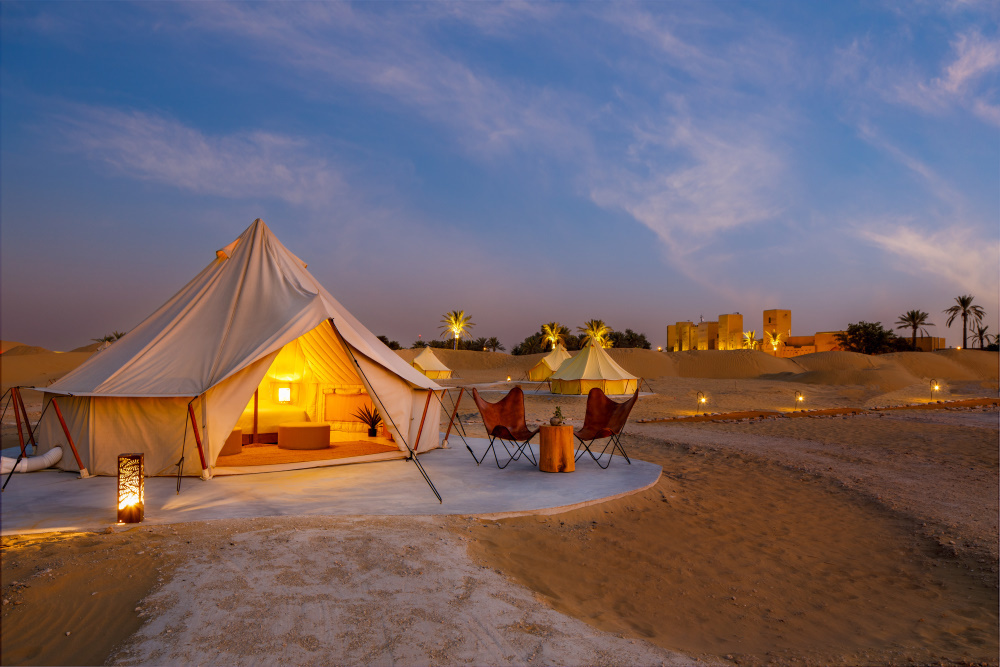 Polaris bell tent
Wake up in the stunning Polaris bell tents and start the day on your terms
Each of the 48 spacious, luxurious and beautifully decorated Polaris bell tents includes a comfortable double bed, soft bed sheets and a small hand wash basin.
Each tent has air conditioning, a mini fridge, towels and a safe deposit locker. Shower and bathroom facilities are also available on the Terra Solis site.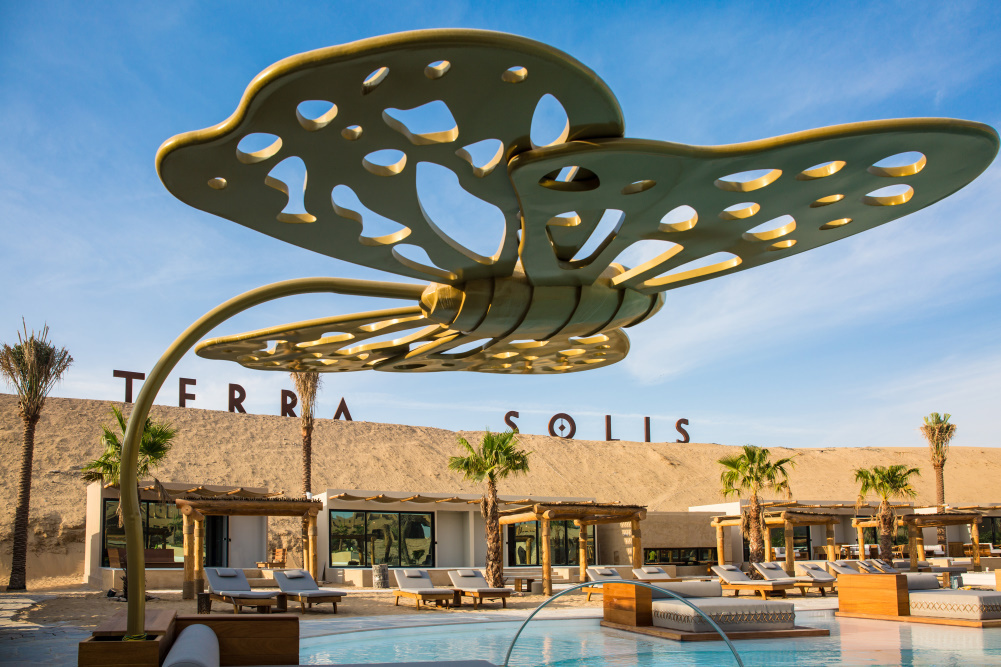 Guests will also have access to all property facilities, including sun loungers, activities and entertainment, and breakfast.
Prices: Starting from AED1,000 plus VAT per night for two, including breakfast.
Rise and shine brightly after a dreamy night in the marvellous Perseid lodge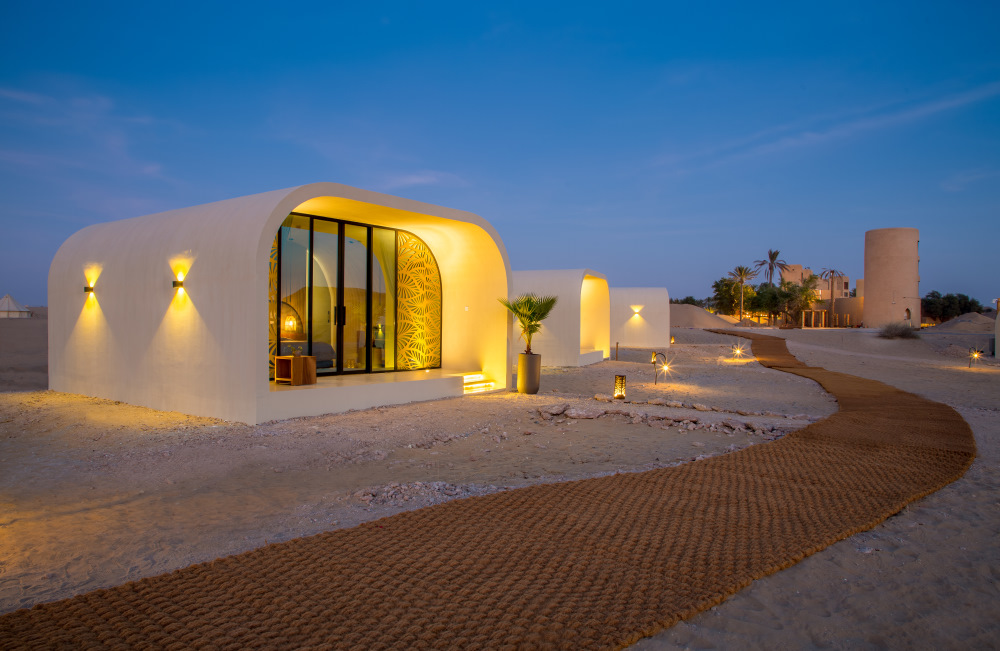 Perseid lodge
The superb Perseid lodges are designed for the ultimate comfort while creating a magical experience for all guests. The unique lodges are fully air-conditioned with a king-size bed and ensuite bathroom and shower facilities and include a mini fridge, towels and a safe deposit locker.
Guest can while away the hours at the pool before enjoying a winter's night under the stars in the ultimate comfort.
Price: Starting from AED2,000 plus VAT per night for two, including breakfast.
Orion pool lodge
Stargaze into your dream and celebrate life by the pool in the spectacular Orion pool lodge
Orion pool lodge
Offering guests, the utmost in luxury, the spectacular Orion pool lodges located near the pool have been designed with attention to detail in mind and provide a truly unique experience.
In addition to a private pool, the centrally located Orion pool lodges also feature a large terrace providing the perfect space to relax and indulge in desert luxury, overlooking the entire resort. The private outdoor cabana and terrace are fitted with high-quality furniture and a dining setting, providing a unique area for friends and family.
The Orion can host two guests to spend the night and accommodates up to 10 friends during the day.
In addition to a king-size bed and ensuite bathroom in the fully air-conditioned lodge, guests can also enjoy the private pool, terrace and dining area.
Price: Starting from AED3,000 plus VAT per night for two, including breakfast.
Located in Dubai Heritage Vision, Exit 29, Jebel Ali – Lehbab Road, Dubailand – 30 minutes from Dubai Airport (DXB), 25 minutes from the Burj Khalifa and 35 minutes from The Palm Jumeirah.
To book accommodation and to learn more about Terra Solis Dubai, visit https://terrasolisdubai.com/en/book-your-stay.
About Terra Solis Dubai
Extraordinary lunch & dinner experiences
Terra Solis will feature exquisite dining options ready to amaze guests with great lunch and dinner experiences, either inside or poolside. Inspired by the 'Tastes of the World' cuisine of Tomorrowland, typical and delicious flavours will be served from all corners of the globe and are designed to be shared.
Guests can enjoy a wide selection of drinks and cocktails at the centrally located bar next to the pool and the Sala shisha lounge. They will also be able to experience the true Tomorrowland madness during a range of exclusive events which will be organised at Terra Solis.
Wake up from a night under the stars
Guests can start their day at Terra Solis Dubai in peace and enjoy an energising breakfast in a soothing atmosphere at their private patio or the poolside restaurant.
Terra Solis is home to several unique glamping options, including 48 spacious, luxurious and beautifully decorated Polaris bell tents and 20 Perseid lodges, combining the ultimate comfort and style.
There are also six Orion pool lodges, each featuring a private pool and a large private outdoor cabana & terrace. The pool lodges are the real eye-catchers, centrally located near the pool with scenic views over the entire destination, offering guests a truly unique experience.
For more information and bookings, please visit terrasolisdubai.com.
About Tomorrowland
Tomorrowland, first held in 2005, is one of the largest and most iconic music festivals in the world, located in Belgium. Organized and owned by the original founders, the brothers Beers.
It takes place every summer welcoming 400,000 People of Tomorrow from nearly every country in the world. Year after year, Tomorrowland sells out in minutes. Over the past 18 years, Tomorrowland has become a true global phenomenon that connects people from every corner of the world.
Tomorrowland has evolved into a global entertainment brand and media powerhouse thanks to its numerous activities such as the annual festival Tomorrowland Winter in Alpe d'Huez (France), the apparel & accessories label TML by Tomorrowland, One World Radio,
Tomorrowland Foundation with Music and Arts Schools in Nepal and India, DJ and producer school the Tomorrowland Academy, record label Tomorrowland Music and Tomorrowland Fiction.
More info: tomorrowland.com
Tour Dubai
Explore the Best of Dubai with Tour Dubai, with a range of experiences, from desert safaris and dinners, dhow cruises, themed boats, and city experiences, each masterfully crafted to be the best luxury tours in Dubai.