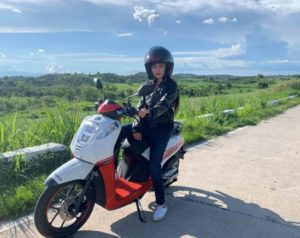 Angela Alfonso, a Honda Genio Rider
Tanauan, Batangas—July 9,2020— Despite the recent move to ease community guidelines, mobility remains a challenge. Move As One Coalition, the group of transport experts and advocates, estimated that at least 4.98 million trips will be required to accommodate the public commute every day in areas under the General Community Quarantine (GCQ).
Half of these commuters may also experience an additional one to two hours of travel time due to insufficient public utility vehicles, while the other half faces heavy traffic congestion because of the increased number of private vehicles expected to traverse the streets.
Philippines News Agency (PNA), the official news agency of the Philippine government, says that trains accommodated only almost 100,000 daily from its original capacity of 1.2 million passengers due to the need to enforce social distancing. This number will further decrease since MRT-3 will shut down operation.
Before the pandemic, countless urbanites have experienced being stuck in traffic. The difference now is that everybody must follow strict health and safety guidelines to avoid outspreading the virus.
As part of the "new normal," motorcycles are becoming the perfect partner as a reliable mode of transportation.
Unlike other vehicles, motorcycles consume with less fuel, produce lower emissions and are more affordable. Moreover, its maintenance costs are also much cheaper making it a wise investment.
When on the road, motorcycles are more mobile and maneuverable allowing you to get to your destination faster. And because you ride solo, contact between you and another person is practically non-existent making for excellent social distancing.
For instance, Angela Alfonso, a Honda Genio Rider, sees motorcycle as an incredibly practical and great investment for commuters, especially during difficult times like the COVID-19 pandemic.
Unlike public commuting where she is always in a rush to find a ride home and bear the pains of heavy traffic, motorcycle helped her go to work and get home quicker.
"I feel safer and more comfortable riding my Honda Genio, since I don't have to worry about getting ill because of the virus exposed in crowds and I get to ride solo," she said.
The All-New Honda Genio is one of the wide array of motorcycles Honda Philippines Inc. (HPI), the no. 1 motorcycle manufacturer in the Philippines, can offer for Filipinos to mobilize on the streets.
With its "ONE DREAM" campaign, Honda also aims to help provide Filipinos the joy of mobility, especially amid the current global health crisis.
There is a lot more to explore from Honda's wide array of motorcycles. For more details about Honda products and promos, visit our website www.hondaph.com and follow our Facebook page, Honda Philippines, Inc. and Instagram, @hondaph_mc.
Ways to keep you safe on rainy season? Watch out for our next article about safety tips during rainy days.