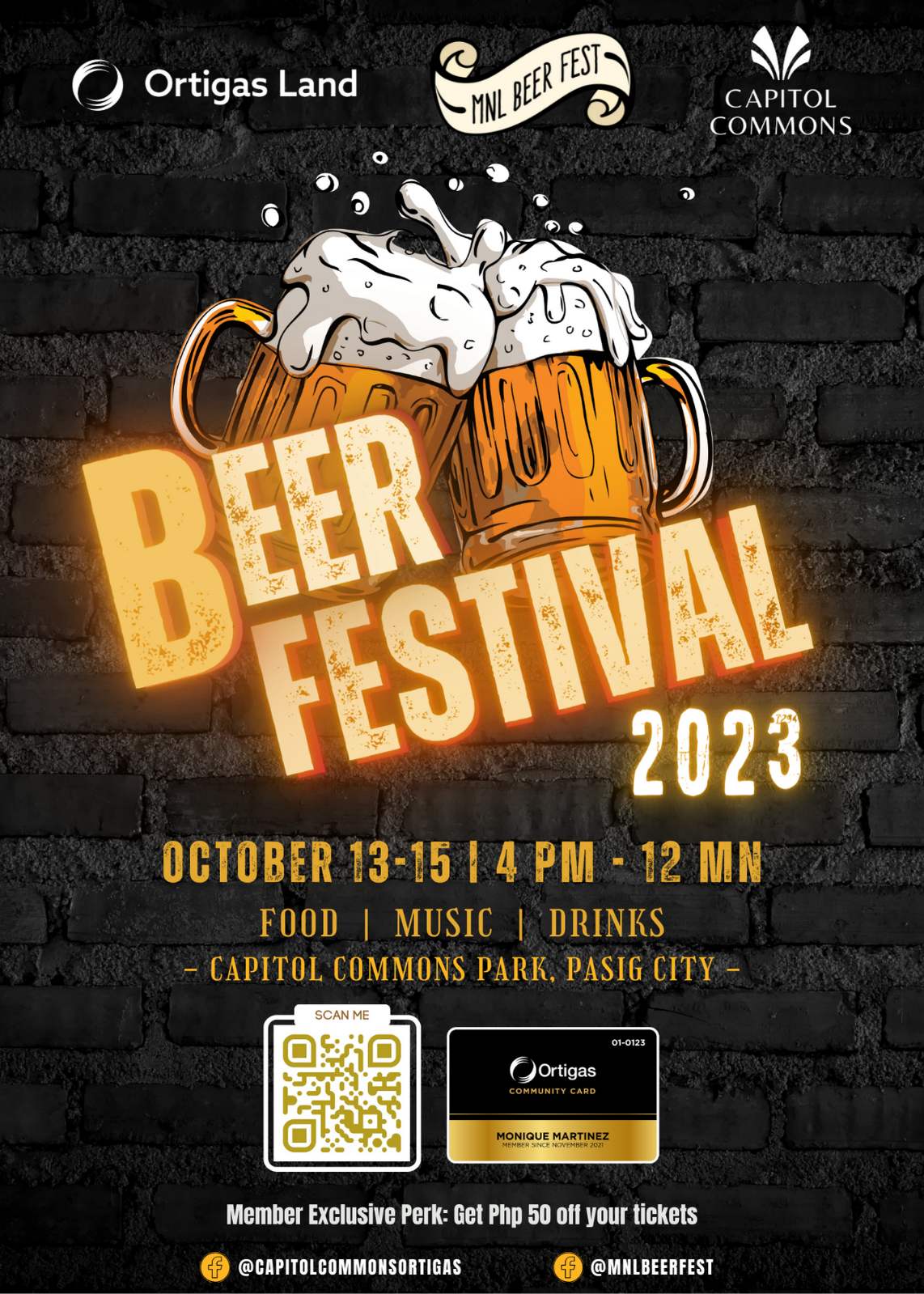 Pasig City, Philippines – Beer enthusiasts, mark your calendars for another MNL beerfest event for this year! The MNL Beerfest is back and set to take place from 4pm to midnight for 3 straight days on October 13-15 at Capitol Commons Park in Pasig City.
This year's festival promises an extraordinary lineup of local craft breweries from the Philippines, Imported Beers, delectable food, and an unforgettable experience for all beer lovers.
The MNL Beerfest is a celebration of the artistry and innovation of craft brewers from across the region and imported beers available in the market. This year's festival will feature an impressive selection of craft breweries, each showcasing their finest creations, including IPAs, stouts, lagers, sours, and more. The event is supported by the vendors and patrons of local craft breweries.
Whether you're a seasoned craft beer connoisseur or just starting your beer journey, there will be something to tantalize your taste buds.
Highlights of the Beer Festival:
Craft Beer Tastings: Sample an extensive array of beers from both local craft breweries & Imported beers.
Gourmet Food: Savor mouthwatering food offerings from a variety of local food vendors.
Vibrant Venue: The festival takes place in the stunning surroundings of the Capitol Commons park beside Estancia, a lifestyle mall right across it.
"The MNL Beerfest regularly brings Beer festivals to the public to give Local Craft beer breweries an event to showcase craftsmanship and creativity that goes into making craft beer," said Cherry S. Genato,
Festival Organizer. "We're excited to bring together beer enthusiasts, brewers, and food lovers for a day filled with great beer, delicious food, and good crowd."
Tickets are priced at Php 500 each with 2 drink servings and unlimited beer tasting to select beer vendors all night! Guests may purchase tickets in advance on the
festival's Viber Community – MNL BeerFest or at the venue on the dates of the event. Attendees must be 18 years or older to enter the beer festival.
For the latest updates and to learn more about the participating breweries and vendors, visit the official MNL BEERFEST Facebook Account: mnlbeerfest
FB Page Link:
facebook.com/mnlbeerfest?mibextid=MKOS29
Viber Link:
https://invite.viber.com/?g2=AQB7AQBS%2BJ8%2FdVDc2cp57kUxKurzmwB5aOPNluFXPeMDfpO1DXT3XZWLIhpL%2Fj4J