Dear Survivor,
This story is not only adressed to the people who were diagnosed with Covid but also to family members and friends affected by this global pandemic. As of today July 9, 2021 I saw that Philippines got 1.4m people infected by covid and 25k of those already died.
Not to mention those people who dont know that they have a covid and just did cured in each home. In a population of 110m I asked why me? Its less than 1 percent, I am a strong guy. Why did I belong to those people who got severe covid19 case who almost died last March 2021. When I was figthing for my life for 2 weeks inside the hospital.
This is already my second life, I can still feel the horrible things happed inside the covid facility and the drug side effects. My brain is kinda floating sometimes up to now but, Im still thankful for the life and with the mild brian side effects after survival.
While inside the facility I even negotiate with our creator on what to do. And said I'm willing to give my everything in order to survive while catching my breath. Some family members and friends telling im out of my mind. I said sometimes yes, maybe because the virus and the drugs, oxygen on my nose and more than 100 dextrose running to my viens were too strong. So tinawag to talaga lahat ng mga Santo just to stay alive.
Being true to my words, I gave up things, including the items that I valued most like my bike, lebron, federer and other cool blogging souviner stuff I've collected for the past 10 years of blogging attending those events. As I completely relocated from living in Metro Manila for almost 16 years. So the most loved to live by the people during pandemic period is not the city anymore but the Province or country side of Negros.
I just gave up everything I have there being true to my word. Why family members and friends hating me for giving up my money. When I needed it most, I didn't told them that I negotiated to our creator to just let me live, then I'll give up everything. My advice to those who struggles with this pandemic is to keep on figthing like I do.
I am willing to give up everything, just let me live. You may not move your hands, you may not open your mouth or move your body. You may loss everything including your things but not your soul. Just keep on figthing!
Even though I like heaven, But I dont wanted to go there yet. My goal is to reach 100 year old like Enrile and Rustan's founder did. No matter how good or bad a person is, I believe that there's still hope and goodness inside each heart to live long.
It is inside that hospital facility I realized that your money and possesions got no value at all. Even made you realized the importance of being liked than being valued. You dont need more like or conversations. You just need genuine care like a real friend or family would only do. That the people who helped you during those times were important than any party or bday presents.
Right now, I'm busy working at home with my new hobby which is gardening, fishing, playing with my baby nephew and biking in the Province. During pre pandemic period I have no time in this kind of activities. But now I just enjoyed it, while it last. My dream of a busy world tour suddenly stop when I could not renew my passport to DFA Bacolod office for 3 weeks now.
Because no schedule yet, Hehe maybe the time and our creator got a different plan for me to share my gift as of the moment. So survivors, just keep on fighting everyday like I did, the new hope for the future is very bright for all of us.
Regards & Just stay Alive,
Jayson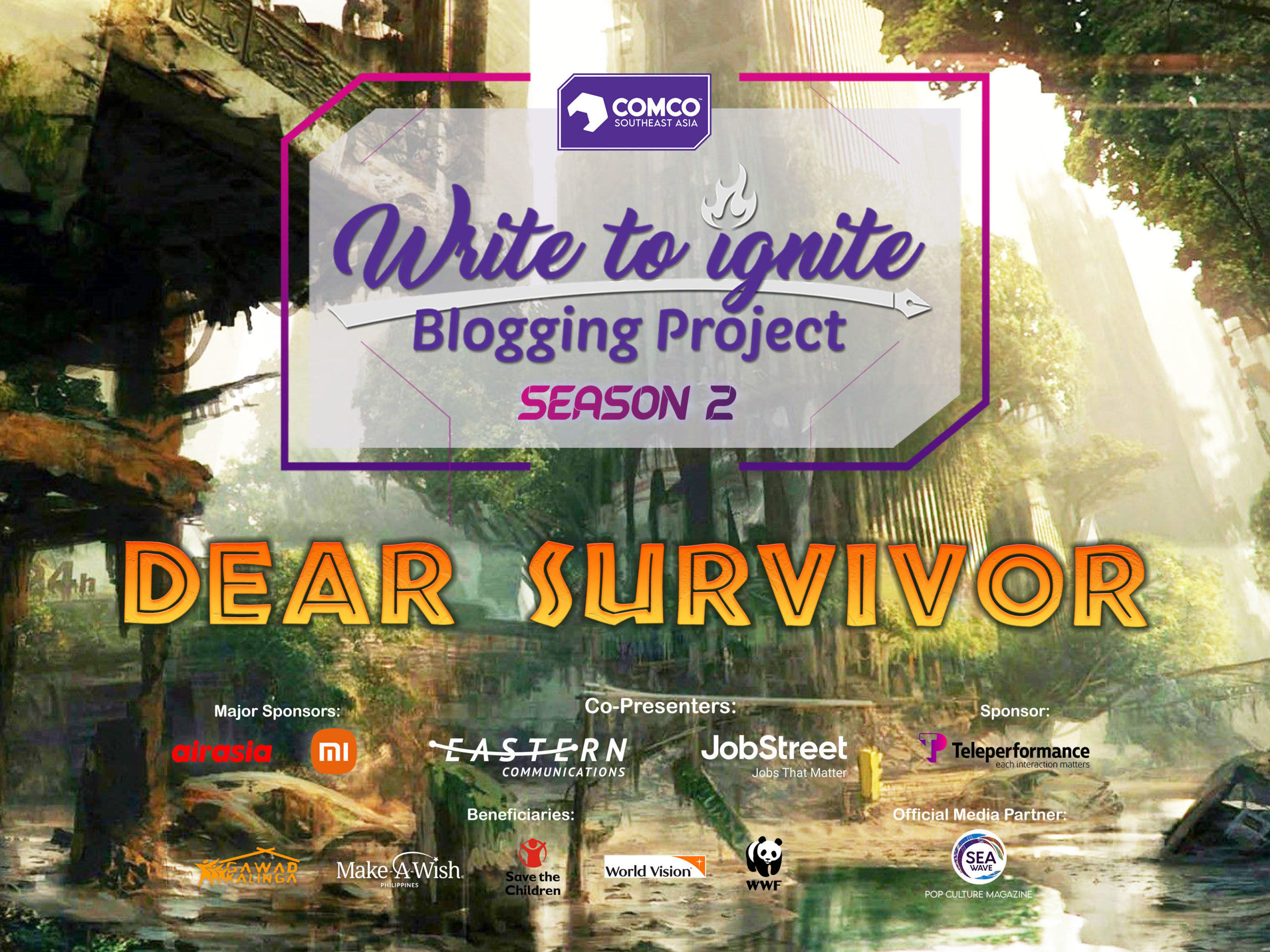 This story is an entry to ComCo Southeast Asia's "Write to Ignite Blogging Project Season 2: Dear Survivor". The initiative continues to respond to the need of our times, as every story comes a long way during this period of crisis.  The initiative aims to pull and collate powerful stories from the Philippine blogging communities to inspire the nation to rise and move forward amidst the difficult situation.
The "Write to Ignite Blogging Project" Season 2 is made possible by ComCo Southeast Asia, with Eastern Communications and Jobstreet as co-presenters, with AirAsia and Xiaomi as major sponsors, and with Teleperformance as sponsor.