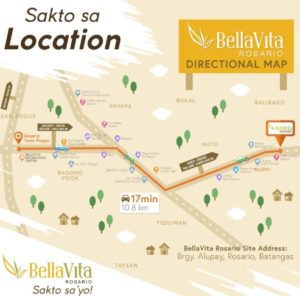 If you enjoy living in the countryside, don't look too far ahead. You can enjoy the fresh air, sounds of nature, and picturesque sights even without relocating to a faraway province – Batangas is the perfect place for you.
From good cuisine to top-notch sceneries, you can enjoy all that you want in a countryside life in Batangas. Here are some reasons why.
Holidays are one skip away
Batangas is known for its great resorts with white-sand braces, perfect for a holiday escapade. With your home in Batangas, you don't have to worry about where to go on your getaway trips as the best beaches are only a skip away!
Holidays become extra fun when you don't have to stress to spend endless hours before getting to your destination, right?
Authentic cuisine is to die for
Countryside living isn't complete without the authentic cuisine experience. The great news is Batangas has a lot of it! Who wouldn't know some of the savory lomi, goto, or tapa. Perhaps, a strong kapeng barako would suit your taste buds!
While you can get these foods in the city, nothing beats the taste of authenticity that you can experience every day if you live in the province.
Good people are everywhere
Don't be intimidated by the strong accent of Batangeuños! They are kind-hearted people with great concern for their community. If you're put in a place that you need someone, you can easily call them and they'll be more than willing to help you.
Most of them aren't good with words and can seem a little straightforward, but they care and want only the best for you.
Lesser traffic in and out
The best thing about living in the countryside is light traffic. With less time on the road, you can spend more time doing the things you love. You can also spend this time with your family and build more memories together.
Besides, who doesn't want to be stuck in the carmageddon or driving on a congested road? The good thing is that Batangas rarely experience traffic.
Bigger house and lot for a cheaper price
Unlike provinces nearby Metro Manila, a standard house and lot is cheaper. This means that you can buy a bigger house for a cheaper equivalent in Batangas. Who doesn't want to get more worth with their money after all.
If you're looking for much more worth with your money, check out the houses of Bellavita in Batangas. They're affordable with great quality too!
For more information about the location of their homes and their pricing, visit BellaVita website or Facebook page.