Last week, Vera toured us in the warehouse of 4D Pocket – Howay Philippines. In which they designed and produced these unique type of toys. Houses and Kitchen and many more made of cardboard's – Which is actually fun to assemble and play with. Because it is safe, ideally for children as young as 2 years old.
More and more adult or parents would say that if you give a child a cellphone or ipad. They will keep quite and not go anywhere. But these technology is cool as a form of diversion but with excessive usage.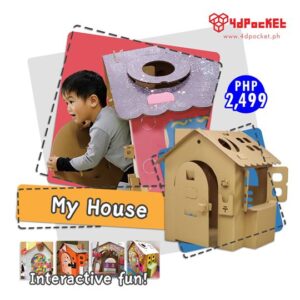 It will bring a negative impact to child growth and mindset especially pop ups and restricted adult or violent sites may come in. Some may also lead to game addiction which is not good in child's eyes and mental as well as physical health condition.
It eliminates also personal communication with family members. Because of me-times being developed as you became addicted to electronic devices and social media. 4D Pocket and Howay Philippines takes this innovation into different level.
By creating the innovative way of playing and creating cardboard. I remember when I was a child I used to mix cement and do woodworking construction work in our house. Creating this kind of toys the tito and tita classic days wayback 2 decades ago.
It was too bulky and you need to exert more sweat just to build a mini-house, desk, boat or chair. Although the risk was quite high, there's time that I got injured my nails by accidentally hit by a hammer. 4d Pocket My house made it the easiest, safest and fastest way.
In which children can assemble, decorate and play with their siblings and parents. A great gift because it creates creativity and vision for a growing child. That they can be a builder or can assemble anything as early as 2 years old young age.
When kids are engaged in activities like this,  It creates an environment that will lead them into the early discovery of engineering and design.  Where they can develop analytical, puzzle and critical thinking in building things together.
During our visit we also saw some Animals and different toys being made. Even a challenge between 2 people (boss and employee) who stays longer inside the 4d pocket house wins. During our visit they are already on their 5th hour.
But they cannot cheat of going to bathroom because it was on video facebook line online. Visit 4dpocket.ph, Lazada, Youtube and facebook.com/4dpocketph for more videos on how to assemble these toys.