Curious about the exciting features in the New Honda CLICK125i?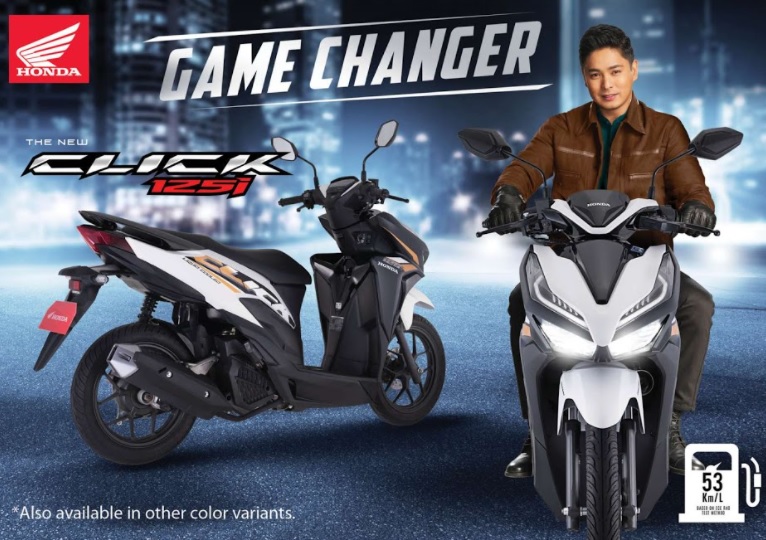 Here's all you need to know:
Tanauan City, Batangas – May 19, 2021 – We have known CLICK125i as a true game-changer on the road, particularly with its unique features that make riding in the new normal safe, smooth, and, of course, stylish with its sporty design. 
In fact, Honda Philippines, Inc. (HPI), the No.1 motorcycle manufacturer in the country, appreciates Filipinos' good acceptance of CLICK125i, which made its way to the No. 1 AT  last year, based on Motorcycle Development Program Participants Association (MDPPA)* wholesales data of the calendar year 2020.
But what if the "game-changer" itself brings the level of the game a notch higher? If you are one of those avid fans of this game-changer scooter, then you will surely love this new treat from Honda Philippines. 
This May, the well-loved motorcycle, yet again, changes the game even more to give you a whole new riding experience, particularly with its exciting, more refreshing and  eye-catchy look as Honda unveils the New CLICK 125i's new color variant!
This new color variant is called Matte Pearl Crater White with stripe patterns. And, of course, the most noticeable is its intricate design, which enhances the New CLICK 125i's already modern sporty look, perfect for young and novice riders.
It is also the latest addition to the New CLICK125i's four other color variants, including Matte Gunpowder Black Metallic, Vivid Blue Metallic, Nitric Orange, and Valiant Red.
The New CLICK125i's other features are also a standout, including its all-LED headlights and taillights for clearer road vision, digital meter panel for an easy glance on details and sporty muffler design with an aluminum end cap. What's more is its revolutionary liquid-cooled, PGM-Fi 125cc engine that gives a brilliant combination of power and fuel efficiency at 53Km/L for a solid and compelling ride.
Besides its sporty design and efficient engine, The New CLICK125i also boasts of its other features, such as its 18-liter capacity U-box for carrying essentials, an innovative secured key shutter for safety and security, and tubeless tires for a comfortable ride with confidence and safety.
"Motorcycles have always made traveling fun and exciting, especially with the freedom they provide to all riders. Our New CLICK125i provides exactly that joy of mobility, not only with its features that we have come to love from this scooter line but also with the new color variant that truly changes the game on the road," said HPI President Susumu Mitsuishi.
The New Honda CLICK125i's Matter Pearl Crater White color variant will be available in all Honda Dealerships nationwide on May 19, 2021. The scooter's suggested retail price is PhP77,400.
As part of Honda's "One Dream" campaign, this motorcycle aims to cater to everyone's daily travel needs and to fulfill their dreams through the joy of mobility. 
Explore more from Honda and its wide array of motorcycles. For more details about Honda products and promos, visit our website at www.hondaph.com and follow us on Facebook, Honda Philippines, Inc., and Instagram, @hondaph_mc. You can also contact us through our landline number, (02)-8581-6700 to 6799, and mobile number, 0917-884-6632.
MDPPA is being participated by 4 Japanese motorcycle brands – Honda, Yamaha, Suzuki, and Kawasaki