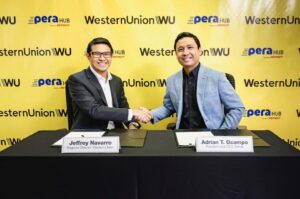 21 Year Collaboration Connecting the World to the Philippines
(L:R): Jeffrey Navarro, Regional Director, Philippines, Malaysia, Brunei and Indochina, Western Union; Adrian T. Ocampo, President & CEO, PETNET. 
.
MANILA, February 2020—Western Union, a leader in cross-border, cross-currency money movement and payments, has strengthened its 21-year relationship with PETNET, known for its retail network PERA HUB.
PERA HUB is a leading cash transaction center with a nationwide retail footprint that offers a one-stop place to access a suite of convenient financial services.
Western Union and PETNET have been working together, offering customers in the country a mix of end to end retail service via a strategically placed network of locations as well as through digital via the PERA HUB mobile app, connecting customers to their loved ones in over 200 countries and territories.
"At Western Union we are committed to moving money for better, providing fast, reliable and convenient cross-border money transfers to meet increasing demand from global consumers.
As our company continues to grow, it is extremely important that we preserve the strong relationships we have with our existing Agents throughout the world.
We are very proud of our association with PETNET and remain committed to driving seamless services together for customers," said Jeffrey Navarro, Western Union Regional Director for, Philippines, Malaysia, Brunei, and Indochina.
"We are pleased to continue our successful relationship with Western Union. PETNET is deeply integrated with the community, and by providing Western Union services, we continue to offer our customers reliable, high-quality and added value services.
Our long-term relationship is testimony to the value we bring to customers. This collaboration is aligned with the Aboitiz Group's purpose of advancing business and communities," said PETNET President and CEO Adrian T. Ocampo.
PETNET also offers Western Union Business Solutions to corporate clientele enabling them to offer convenient and reliable ways to process cross-border business payments with access to over 130+ currencies.
PETNET is majority-owned by City Savings Bank, Inc. and Union Properties, Inc., both wholly-owned subsidiaries of Union Bank of the Philippines (UnionBank), the financial services strategic business unit of publicly listed company Aboitiz Equity Ventures, Inc.
The Philippines ranked as the worlds' fourth-largest remittance-receiving country in 2018, according to the World Bank. Western Union serves customers from a large network of Agent locations facilitating convenience for customers in the Philippines.
About Western Union
The Western Union Company (NYSE: WU) is a global leader in cross-border, cross-currency money movement. Our omni channel platform connects the digital and physical worlds and makes it possible for consumers and businesses to send and receive money and make payments with speed, ease, and reliability.
As of September 30, 2019, our network included over 550,000 retail agent locations offering our branded services in more than 200 countries and territories, with the capability to send money to billions of accounts.
Additionally, westernunion.com, our fastest growing channel in 2018, is available in 75 countries, plus additional territories, to move money around the world.
With our global reach, Western Union moves money for better, connecting family, friends and businesses to enable financial inclusion and support economic growth. For more information, visit www.westernunion.com.
About PETNET
PETNET has the largest agent location network of Western Union in the Philippines with over 3,000 locations composed of company-owned and sub-agent locations nationwide.
Its retail brand PERA HUB is geared towards providing complementary products such as money changing, bills payment, airline ticketing, cell phone loads, micro-insurance and other cash and payment related solutions to its growing market.
To further expand its reach for cash solutions anytime, anywhere, PERA HUB launched its PERA HUB App and PERA HUB Visa Prepaid card which allows users to send and receive remittance on their mobile.
For your cash and payment-related solutions, visit the PERA HUB branches nationwide. The PERA HUB App is available for download in Google Play and App Store.
For more information: visit www.perahub.com.ph, call us at (+632) 8812-9209, and follow PeraHubPH (Facebook, Twitter, and Instagram).