Bamboo: Una Mas Cebu EditionIt is finally on! Bamboo live in Cebu!November 23, 2019, 7 pm at the Pacific Grand Ballroom of Waterfront Cebu City Hotel and CasinoFor tickets: TicketNet and TicketWorld Manila#cebu #Bamboo #Concert #WaterfrontCebu

Posted by Bamboo Una Mas Cebu 2019 on Tuesday, October 1, 2019
Bamboo Manalac one of the famous singer in the Philippines is ready to rock again. as a fan, I consider him as the No# 1 rock singer icon in the country.  One of my favorite song is the Truth and Probinsyana. And I like to see him perform it live again. The last time I saw him did this was is in Eastwood.
See the concert of  themed as BAMBOO: UNA MAS CEBU EDITION 2019 at the Waterfront Hotel & Casino Cebu City on November 23, 2019. Doors open at 6 pm – Staged set by Espicom Production.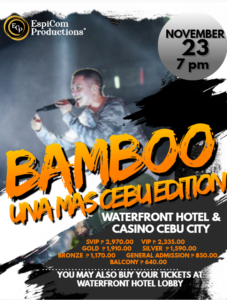 For the benefit of Balay Silangan, a community – based reformation program that aims to rehabilitate surrendered drug personalities in the country – a program launched by PDEA last 2018.
Buy your ticket now at SM Tickets, Ticket world or at the lobby of Waterfront Cebu VIP = Php 2,800 Gold = 2,200 Silver = 1,800 Bronze = 1,100 General Patronage = 800.00 and Balcony = 600.00. See you there!