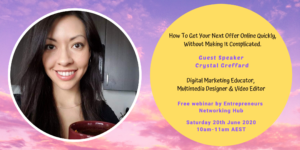 Webinar 1
Feeling stuck in your corporate job and wish you could turn your passion into a career? A lot of people dream about this but aren't exactly sure on how to start. It may be scary to take that leap but there are people who have been able to do just that and have become successful in their new
careers.
Aleksandra Di Gesaro, a fashion photographer, writer and entrepreneur will share how she was able
to turn her passion into a full-time career as an artist with the webinar "How to Start Earning From Your Passion & Become a Full-Time Artist".
She'll be sharing how you can earn from your passion without leaving your day job and eventually turn it into a full-time career.
This webinar is free and will happen on June 6, Saturday from 6:00pm-7:00pm.
Register at this Eventrbite link: https://bit.ly/2L6gVyO to reserve your slot. Hope to see you there!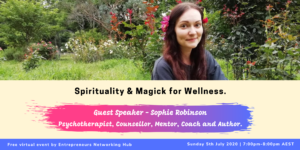 Webinar 2
Been thinking about taking your business online? Learn how to create an online offer with the
Entrepreneurs Networking Hub's webinar on How to Get Your Next Offer Online Quickly, Without Making It Complicated.
Guest speaker Crystal Greffard from Clarity State Media will share her tips on how you can launch your own online offer and have people signing up in no time.
Whether it's a webinar, podcast, online course, summit or any other online offer that you want to launch, you'll be able to learn how you can get more leads and clients from your target audience.
This webinar is free and will take place on June 20, 2020, Saturday from 10:00am -11:00am. Sign up
via the Eventbrite link: https://bit.ly/3aTyCvT to reserve your slot.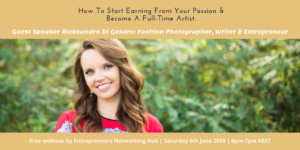 Webinar 3
Having the right amount and balance of energy is important in our daily lives to keep us going and have a healthier outlook on life. Unfortunately, a lot of us suffer from low energy because of stress, overwork and other different factors.
If you want to know more on how you can improve your energy and personal wellness, join the webinar – Spirituality & Magick for Wellness.
Guest speaker Sophie Robinson will be sharing her self-care strategy and teach you about the different types of energy and how you can utilize them so that you can manage your energy levels in a more balanced way.
This webinar is free and hosted by the Entrepreneurs Networking Hub, happening on July 5, 2020, Sunday at 7:00pm – 8:00pm. Register at the Eventbrite link: https://bit.ly/3aTyCvT to get your virtual ticket.