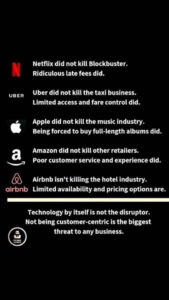 As you noticed at time goes by on the image above. Just like facebook and twitter killed friendster and multiply. Netflix did not kill Blockbuster. Ridiculous late fees did. Uber did not kill the taxi business. Limited taxi access and fare control did. Apple did not kill the music industry.
Being forced to buy full-length albums did. Airbnb did not kill the hotel industry. Limited availability and pricing options did. Amazon did not kill other retailers. Bad customer service and experience did. Technology by itself is not the real disruptor. Being non-customer centric is the biggest threat to any business.
Having said that Captivate Digital Stamp is replacing Old School being replaced by Digital Technology. An innovative solution for wireless technology is now available in the country. People like to go to coffee shop like starbucks, mercury, jollibee and sm grocery mall everyday. They also like rewards or what something cool and new!
Having a big or small retail business must evolve because people like style and class. When it comes to this social or everyday transaction need. Customer loyalty is very important so the business can survive in this shark business world. Even when you are a small player, I mean a small fish in this retail industry.
You can still have a big chance to grow like Mang Inasal and Potato corner. Customer retention is one the key for any business to succeed. Why not reward them with a fast yet enjoyable cool amazing tool and not let them carry those bulky cards or rewards card on their wallet?
Captivate create digital stamps does not require app installation. Because they understand that its a hassle in your phone memory just like cards in your wallet even batteries. Aside from being an environment friendly technology. Captivate also inked its partnership with the leading salon, fast food, restaurants and cafes.
I can set you up a business meeting appointment and demo with Captivate.ph specialist that will analyze and give recommendation on your unique business. Call/text 0927 989 6797 or send email jbiadog@yahoo.com for more info.