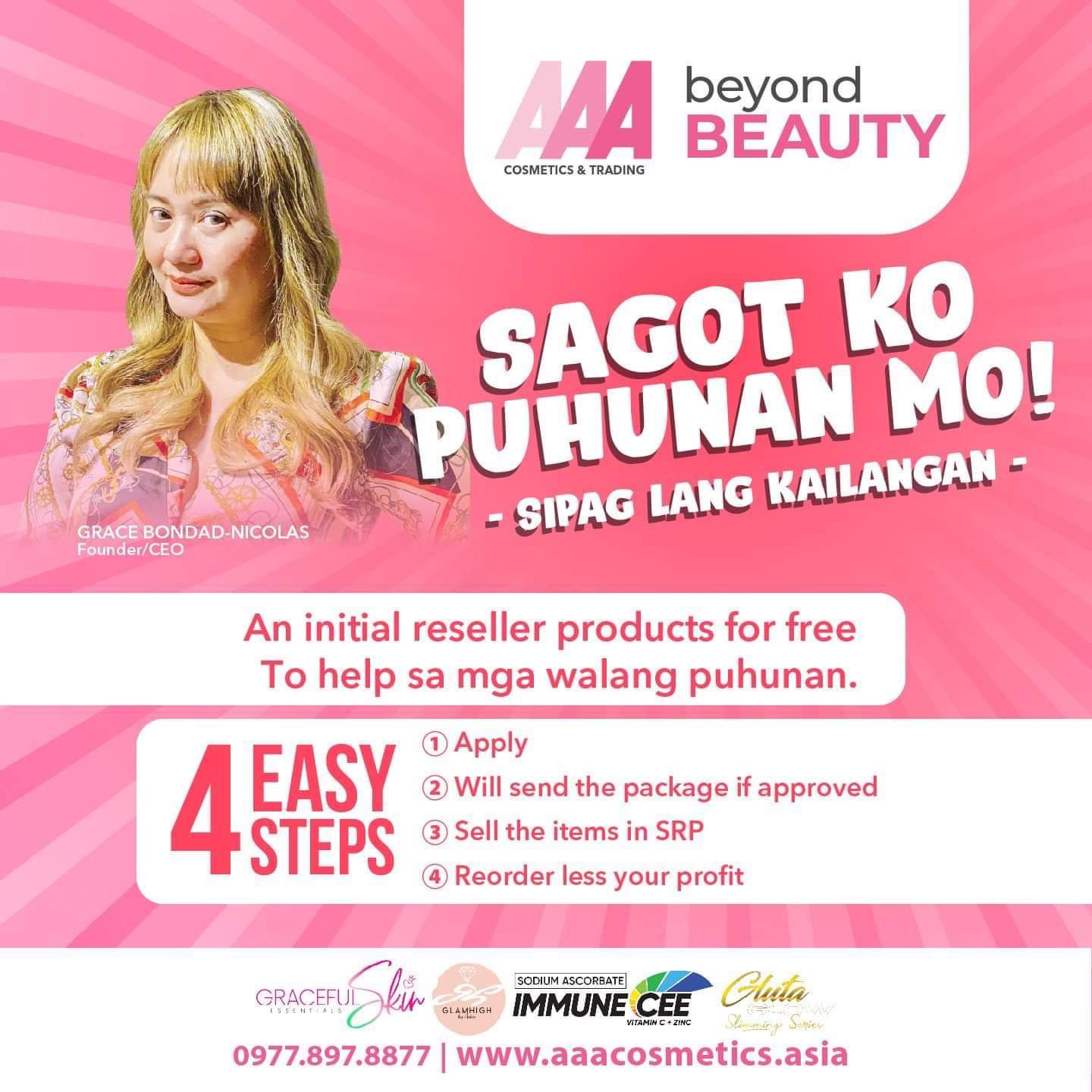 In order to help more those employees who are displaced by this global health crisis, AAA Cosmetics and Trading Company with brands; Immune CEE Vitamin C +Zinc, GlutaGlow Slimming Drinks, GlamHigh Cosmetics By Andria and GracefulSkin Essentials came up with "Sagot Ko, Puhunan Mo or SKPM Project.
SKPM is to provide an initial FREE capital or investment in a form of the AAA Cosmetics and Trading Company Products Mix for the chosen or approved individual to sell.
Since most doesn't have an extra budget to invest, the Group Chairman, Andrew Troy Nicolas explained, "We like to help those workers displaced by this pandemic, they have the will to work and yet doesn't have a choice since their companies were also affected and need to remove them. We like to help out and for them to continue to help their family."
Mechanics are as follows;
1. Apply via AAA Cosmetics and Trading Company Facebook Page to submit necessary proofs of work displacement
2. Wait for approval within a week
3. If approved, Orientation & receive the products to sell in SRP
4. Reorder less profit
The Co Founder and Brand Chief Executive Officer, Grace Bondad Nicolas reiterated that this is for those employees or workers displaced by this pandemic, a very specific group.
According to her, "We already did some testing to different individuals from different background and we decided that those who were working before and loss their jobs has more will and determined to earn.
It's a circle, they need to reorder from the free resellers package we provided in order for this program to be successful for themselves. Other sectors can apply but still need to be approved."
This is the Corporate Social Responsibility and project of AAA Cosmetics and Trading Company. For more information; www.aaacosmetics.Asia or 09778978877/ 028 2193503, manila@aaacosmetics.Asia