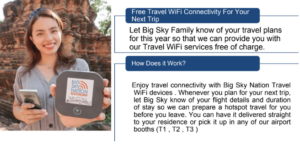 Travel from Philippines to more than 100 countries worldwide with the use of 2-3 local country satellite towers or technology partners. So you can enjoy sports, luxury, online market and connected to the business world 24/7 real fast times.
In a competitive business world where every minute and seconds counts. This will serve as a main source to stay connected to the net anytime anywhere.
So if your requesting a friend request or doing a selfie with a world champ or celebrity. Say no more #latergram or later friend follow request.
If you're a business, into betting or gambling or into stock market. You knew that every seconds count. So uninterrupted internet source alternate ready is a big requirement.
Use Code the JAYSONTRAVELS to avail 20% off on total booked day passes
Plus P 2,000 Waived Security Deposit Fee so no more deposit fee just get the Wifi or sim rental service and fly. #sim #pocketwifi #internationaltravel #travel #philippines #abroad #worldtravel
The sim or wifi pocket device which you can connect of up to 10 gadgets will be delivered to your house. Or you can pick it up or drop it in NAIA Terminal 1, 2 and 3 even in Davao Airport. Cebu, Clark and Catiklan coming soon.
#bigsky #skynationroaming @bigskynationroamingph #roaming #internetabroad #jaysontravels #internetdiscount #wifionthego #simcardwifi #airportwifi #travelwifi #otc #tech