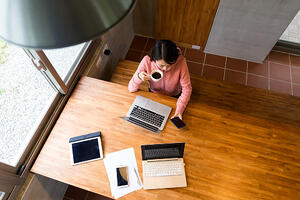 Sales tax varies in every State, For instance in the US mainland State of California. The sales tax filing rate varies, I knew it because I used to sell supplies in the all parts of US territories before. And its really confusing if you don't have expert guide or team that will constantly guide you.
Percentage varies among Counties, States and City. Even US territories like Guam and American Samoa have different scale when it comes to taxes. You just need to visit US government sites that provides general information about your tax responsibilities.
Personally – I don't like tax, but its already part of our daily lives. Ether we are at sleep or walking around we are getting taxed. So we need to embraced it and become more responsible in handling it. Even with or without the Pandemic Covid19 the tax will go on.
It actually changed how people do business onshore and offshore. So the obligation will stay the same with much more of temporary considerations from the Government of the current crisis.
The preparation of filing tax returns and sales tax each month is quite sensitive and time driven. So you need to make sure that you are 100% accurate to avoid penalties. Also to save sometime in preparing of those legal procedures.
So you need an expert that will guide you along the way. As a registered taxpayer of certain region, you need a company that understand the jurisdiction of those areas for you to save more time. And focus more on your business productivity.
You just need to leverage those expertise to dedicated individuals that will compute and prepare your tax return. A company that you can trust and can consistently do data review and validation.
Can do return submission, tax review, payment remittance, notice prevention, return prep filing, GL reconciliation, custom reports well as consulting and whatever support you may need for your business.
Which is all delivered by a network of highly skilled CPA and tax practitioners. If you do business globally – the good news is that you got the cloud based all in one click solution that will handle your sales tax.
So you can reformat all of your data before and import it. And make sure you completed the registrations on all of those 48 US mainland States info. Just to make sure that there would be no clerical errors on your part.
And then they will just make sure that those will be submitted on time. To make it easy for you, with TaxConnex you've got all the backup. For keeping it safe and simple as they do it all right.
To eliminate tedious setups because all you need to do is to send them your data. As they do a tailored approach and figure out what the best for your business. As they work with an all in one sales partner who does everything from data entry to remittance with no extra charge.
Say goodbye to a 1 800 dial a help desk and say hello to a dedicated tax pro that is directly assigned to your account. So you may ave sometime in directly contacting the assigned project manager. That will consistently gave you information and accurate data when you ask anything about your business tax info.