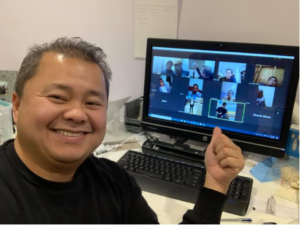 I was constantly monitoring the news and the global market during this pandemic. And its really sad to see restaurants and business closes everyday. For sure those who are in the travel, food and leisure business are getting bankrupt.
Even with my favorite established food chain need to close down hundreds of its stores like Jollibee and Starbucks. But not with the internet, pharma (mask, alcohol, covid drug) and delivery sites like Amazon, Shopee and Lazada whose profit and value are sky rocketing.
For sure there's a lot of losers and winners in these kind of pandemic. Even one of my most admired profitable Investor Warren Buffet for the past decades. Suffered a great loss $50B in acquiring US Airline companies in first quarter.
Nobody is indispensable, anything can be replaced if the pandemic continues. Even established malls is in danger – which can be replaced by online shopping sites. On the other hand Smart Asset Managers (SAM) subscribers enjoy their financial rewards during this pandemic.
SAM founder, Rommel Santos learned to cope up with the global pandemic in which they could hardly feel the financial burden of the said virus in terms of subscription. Even in Modified Enhanced Community Quarantine (MECQ) delayed some of its Government compliance.
But still SAM became fully operational in the Philippines.  "This only means that Covid-19 cannot stop us in doing what we are doing now," Santos said. Which means that SAM is fully aware of the market condition and still got better solution alternatives to its subscribers.
Meanwhile, the Securities and Exchange Commission (SEC) has released the certificate for SAM Asset Managers Project Developments (SAMPD) last Friday, July 31, making the operation in this aspect, legal. Other pending licenses and registration for conventional businesses are for SAM Remittance, SAM Ride, SAM Delivery, among others.
"We do not want to invest. We don't want to be part of the businesses. We only want to leverage in these businesses," Santos said in reference to the subscription placed by people who believe in the DDK (Dinar Dirham Koin – SAM's preferred crypto currency) financial technology or fintech.
Santos further explained that when people become more aggressive in inviting additional subscribers, creation of more projects under SAMPD, will be fast-tracked as well and "a lot of these projects can be leveraged effectively." "Then you can help a lot of people enjoy their wealth with DDK," the SAM founder explained.
In order to help the Philippine government, Santos is calling on all subscribers to spend their incentives from SAM. "Where else in the world can you find, you have to spend free money to earn free money."
In addition, SAM is coming out with new Apps soon. It will be an improvement of the old apps.